Our vintage gypsy caravan is the perfect romantic retreat and is open all year round. Designed specifically for one or two adults, our caravan is an original gypsy bow top, with a double bed, log burning stove and lots of quirky storage space. There is also an adjacent log cabin with a kitchen and dining area, including a cosy sofa, running water and a gas hob. Outside you have a secluded garden with fire pit and rustic outdoor furniture, plus a private composting toilet and hot shower. Due to the unique design and layout, Bluebell Corner is not suitable for babies and children, but well-behaved dogs are very welcome!
Our much-loved bow top has a real story to tell. Hand built originally for Bill Boswell, as you can see from the ornate WB woven into the elaborate paintwork, it has been to the famous Appleby Horse Fair and has been lived in by Romany families. These days it nestles in the corner of its own field so is super private and is the perfect place to step back in time and escape the hustle and bustle of modern life. Stepping inside the caravan is like retreating into a safe, cosy sanctuary, with the double insulated roof and walls protecting you from the weather and outside noise all year round. With the log burner crackling away and lots of cosy blankets and cushions, there is no better place in the world to hide away and relax.
Just next to the caravan is the hand-built log cabin, with a veranda from where you can enjoy the ornate paintwork of the bow top and the views to the mountains beyond. There is a fire pit for you to cook and toast marshmallows over, or just snuggle up under a blanket with a hot chocolate to watch the stars. Inside there is a fully-equipped kitchen with all your home comforts, including a sink and running water, cool box and gas hob plus all the pots, pans, crockery and cutlery you could ever need. There's also a dining table and a big squishy sofa to curl up on and read a book or play cards next to the log burner.
Read more about out gypsy caravan's secret history here.
IMPORTANT NOTE: Due to the way the caravan is built, you need to be able to climb into the small double bunk bed, which is slightly smaller than a standard double. We do provide a small ladder but this accommodation is not really suitable for anyone with mobility issues, or who requires a lot of sleeping space. Bluebell Corner is also not suitable for babies or children.

What's included in the price
Luxury bedding, linen, blankets and cushions
A basket of logs, kindling and firelighters
Milk, tea, coffee and hot chocolate plus kitchen essentials
Pots, pans, mugs, glasses and crockery
Washing up equipment and tea towels
Chairs for sitting around the campfire
Full use of our hill fort, communal games cabin and pool table
A hammock!
What you need to bring with you
Towels for the hot shower
Wellies and waterproofs
Food and drink
Personal toiletries
Checking in soon? Check out our Welcome Pack for more details about Bluebell Corner | Cornel Clychau'r Gog and what you can look forward to during your stay.

Key Features

Sleeps 2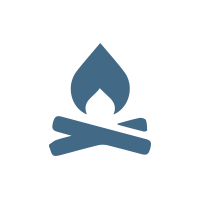 Secluded location with fire pit and rustic outdoor furniture

Up to two well behaved dogs welcome

Fresh flowers on arrival

Outdoor campfire cooking and gas hob facilities

Large cool box in the log cabin

Running water and hot shower

Private composting toilet